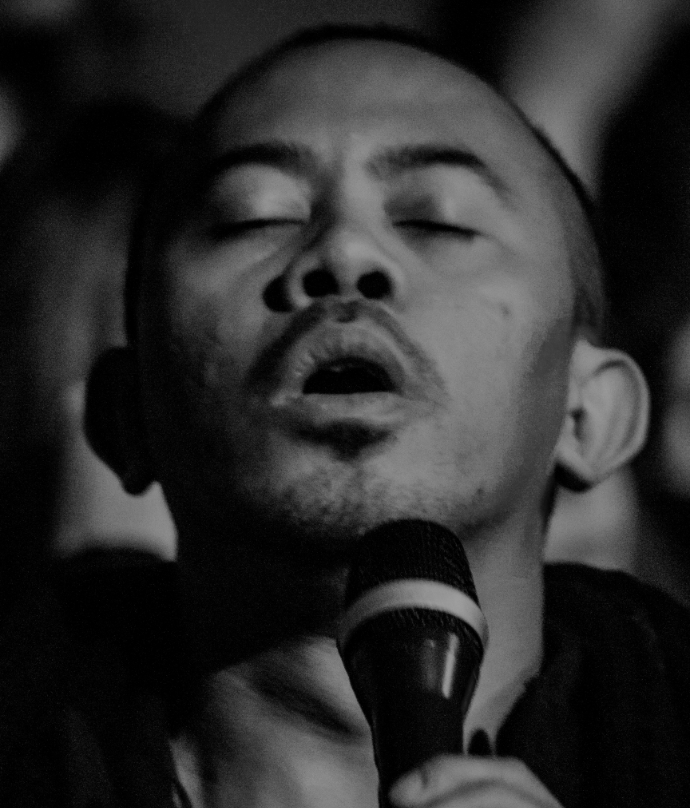 Rully Shabara
Vocal Artist
Profile
Born in Palu, Central Sulawesi, Indonesia in May, 1982.
Interested in exploring human voice as a medium of creation, and oral traditions, folkloric texts and chants as subject of study.
Exploring vocal range and textures in Senyawa, and develop conceptual music project in Zoo.
Initiated numerous concept-based projects around voices as main element.
Rully Shabara official website
The Experience Series, by Gigi Priadji
Featuring Rully Shabara (solo vocal works)
Recorded in Inujima Island, Japan 2016
Senyawa
Jogjakarta's Senyawa uniquely manage to embody the sonic influences of Javanese music through the framework of experimental music practice—pushing and pulling the boundaries of both traditions.
Their music strikes a perfect balance between their avant-garde influences and cultural heritage to create truly contemporary Indonesian music.
Their sound is comprised of Rully Shabara's deft extended vocal techniques punctuating the frenetic neo-tribalism of instrument builder, Wukir Suryadi's modern-primitive instrumentation.
Inventions like his handcrafted 'Bamboo Spear'; a thick stem of bamboo strung up with percussive strips of the plant's skin along side steel strings.
Amplified it fuses elements of traditional Indonesian instrumentation with garage guitar distortion. Sonically dynamic, the instrument can be rhythmically percussive on one side whilst being melodically bowed and plucked on the other.
In 2011 they were invited to perform internationally for the first time at the Melbourne International Jazz Festival sharing the stage with many great musicians such as Faust, Tony Conrad and Charlemagne Palestine. Since then they have gone onto perform at MONA FOMA Festival in Tasmania, the Adelaide Festival with Korean singer Bae Il Dong, toured as special guests of Australian supergroup Regurgitator, performed at the Glatt und Verkert Festival in Austria along side Japanese guitar master Kazuhisa Uchihashi, as well as the Malmo Sommarscen Festival in Sweden, Salihara Literature Festival in Jakarta, Copenhagen Jazz Festival, CTM Festival Berlin, Supersense Festival, Clandestino Festival in Norway and Oct Loft Jazz Festival in China. Wukir as a solo performer held a residency at the world famous STEIM in Amsterdam and also performed at the STEIM Festival. Rully Herman was for many years lead singer of legendary experimental Indonesian band ZOO and has also published two books of his written works.
They have collaborated and performed with many notable musicians such Yoshida Tatsuya, Lucas Abela, KK Null, Keiji Haino, Jon Sass, Damo Suzuki, Jerome Cooper, David Shea and Kazu Ushihashi.
In 2012 they completed a film in collaboration with French filmmaker Vincent Moon.
CALLING THE NEW GODS • SENYAWA live in Java
a film by Vincent Moon
images, sounds & edit by Vincent Moon
mix by Senyawa
produced by Vincent Moon, Aniza Santo & Senyawa
shot in Yogyakarta and around
Indonesia
january 2012
Senyawa:
Rully Shabara
Bambu Wukir
Senyawa