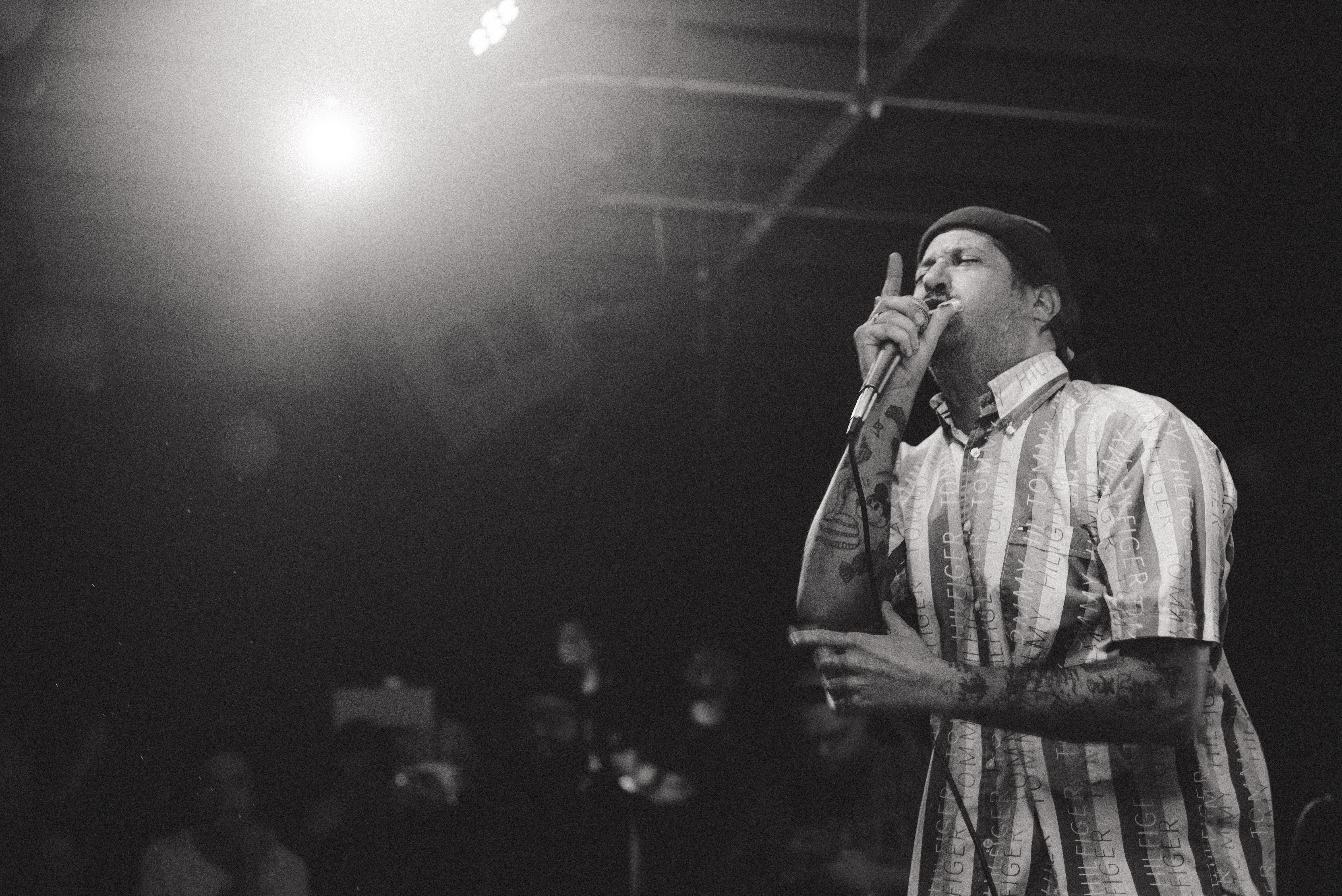 Bleubird
rapper/writer/performer
Profile
Bleubird is a Florida-based rapper/writer/performer and world traveler.
The projects he has been involved in are too vast to follow.
Born in South Florida in the 1980s, Bleubird had an early fascination with 2 Live Crew and Public Enemy, but also he was devoted to skating and punk rock too.
He made his live debut in 1999 and for years afterwards, he took the Florida music scene by storm with the likes of Swamburger and DJ SPS. Since then, from Florida to Montreal to Berlin, Bleubird has lived in many communities and become a part of each one. During his time in Montreal, he rocked the TurboCrunk parties with Subtitle and Megasoid, as well as Patrick Watson, members of the Sevens Project, Norsola (God Speed you Black Emperor), He was a regular participant in Moondata Lab projects sessions with musicians such as DJ P-Love and Stefan Schneider (Bell Orchestre).
Eventually, in the mid-2000s, he collaborated with artists from the alternative hip-hop label Anticon, resulting in the albums "Sloppy Doctor" and "RIP USA", which made the Urb "Next 100" list in 2008.
After touring to Canada and Europe, as well as Jordan and India, Bleubird settled in Berlin, where he and AtariTeenageRiot engineer Jayrope formed the group "Prinzenallee" to create with "Don't Let Nerds Take Over Your Life," an innovative musicianship with a complex mix of sounds from various genres.
After returning to the United States, Bleubird announced "freebird project". It was traveled around North America in a campervan and which lasted for two years and featured sessions with artists from there.
While on the freebird project, he continued to tour around the world, and in Japan he met his future true friend, sibitt (Origami) and formed the TriuneGods with him.
Two of the TriuneGods' releases in the 2010s, "Seven Days Six Nights" and "≠ Three Cornered World," were made by Bleubird, sibitt and Scott Da Ros (a longtime supporter of Bleubird's musical career, Label owner of Endemik Music ), expressing an unparalleled deep worldview of excellence in English and Japanese.
His journey with the freebird project came to an end in 2012. He moved back to his hometown of Florida and released "Cannonball!!!" is released on the label FakeFour inc, hosted by Ceschi Ramos.
In a departure from his previous work, Bleubird's raps blended with melodic tracks to show listeners a new, more mature side to him.
In 2015, he released "LAUDERDALE", also on FakeFour. This sound style is different from "Cannonball!!!" in that it's a laid-back style and ferocious, wild rap over an upbeat Southern sound.
One music critic once described him as.
"He's one of the most positive yet bitter MCs you'll ever have the pleasure of nodding your head to. In a single line, he'll sound as political as Noam Chomsky, as dirty as 2 Live Crew and as emotionally fragile as a young girl's diary entry."
He has expressed his vast array of projects in a variety of styles. He is a rare rapper who pays homage to authentic hiphop, but pushes its boundaries with ease.
His expressive power makes us feel all kinds of emotions. Sometimes he can be as gentle and tender as a longtime friend, sometimes he preaches life like a philosopher and sometimes he lets us hang out like an innocent kid.
Since moving to Florida, he has been hosting open mics and parties to bring together creative artists from all walks of life.
This is evidenced by projects such as the "HurricaneParty" and "FatherFigures".
Bleubird's live performances provide intense energy, no matter where they take place. His idea of a live performance is not to deliver a conventional show.
He draws inspiration from his own life experiences and his high level of professionalism to connect with and entertain all types of audiences.
And his journey continues into 8∞
In this era of confusion, numbness, the words of Bleubird at 8∞ will jump into your ears with more vigor with the flag of defiance, honesty and self-expression.
His music is a soundtrack to those who try to swim against the flow without losing their integrity.
Bleubird discography CD/Vinyl/Tape
Solo Works
Sloppy Doctor (CD, Album) 2003
Sloppy Doctor (2xLP, Album,) 2004
Sloppy Doctor Japnese Ver. (CD, Album,) 2005
From Supercold To Superheat (CD, Album) 2005
RIP U$A (The Bird Fleu) (CD, Album) 2007
Rip U$A (CD, Album, Dig) 2007
RIP U$A (The Bird Fleu) (2xLP, Album) 2007
RIP U$A (The Bird Fleu) (Cass, Album) 2016
Cannonball!!! (CD, Album) 2012
Cannonball!!! (LP, Album,) 2013
Domnei Des Amantes (7xFile, FLAC, Album) 2012
Lauderdale (Cass, Album,) 2015
Lauderdale (CD, Album,) 2015
Lauderdale (LP, Album,) 2016
As "Les Swash Backling Napoleons" works
Shiver Me Timbers / Skywriter (7″) 2003
Fuck (CD, Album) 2010
Les Swashbuckling Napoleons / James P. Honey – Smash The Compass Kill To Play / How To Build An Ark ‎(7″) 2010
As "Prinzenallee" works
Don't let nerds take over your life (CD, Album) 2009
Don't Let Nerds Take Over Your Life (10″, Album) 2010
As "Triune God's" works
Seven Days Six Nights (CD, Album)2011
≠ Three Cornered World (CD, Album)2014
≠ Three cornered world (LP,Album) 2014
As "Father Figures" works
Father Figures (Streaming) 2016
As "Hurricane Party" works
Juice ‎(Cass, Album) 2019
Juice ‎(CD, Album) 2019
Juice ‎(LP,) 2019
Singles & EPs
Pilgrim Of St. Zotique ‎(12″) 2006
Rocket Mouth ‎(12″) 2007
Reindeer & Son Lux / Bleubird – In Static (Strange And Gentle Things) / Wild Street Fire ‎(7″, Single, Ltd) 2009
Oleander Wavy – Where I Been ‎(7″, Ltd) 2019
Compilations
Bleubird & TSHO* – Street Talk Part III – The Mixtape ‎(14xFile, MP3, Comp) 2009
Bleubird & TSHO* – Street Talk Part III – The Mixtape ‎(Cass, Comp) 2009
Miscellaneous
Street Talk 2 ‎(7xFile, MP3) 2008
Street Talk 2 ‎(7xFile, MP3, 320) 2009
CYP Not PYT ‎(Acetate, 5″, Pic) 2008
Street Talk 5 ‎(5xFile, MP3) 2009
Down Like Brothers ‎(Lathe, 5″, Shape, S/Sided, Card, Ltd, Pic) 2013
OFFICIAL BLOG/WEB/facebook